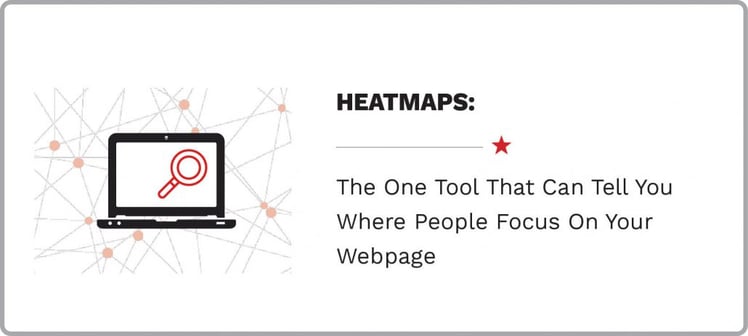 Websites are a lot of work. There is a lot of time and effort that goes into planning, designing, building and executing a well-developed professional website. However, the work is not over once the site launches. Continued analysis of your site is needed, as it not only helps increase your traffic flow as well as keeping your visitors up-to-date on your business's happenings – it is needed to ensure that visitors are getting the right information when they need it.
Analysis – that must mean Google Analytics, right? Well, yes – Google Analytics does certainly help show what pages are being viewed, how many times and for how long. Great metrics to use when trying to determine what users are wanting when viewing your website. However, they do leave out one important detail – what the user is looking at when they are on the page. That is where Heatmaps come in.
What Are Heatmaps & Why Do They Matter?
Heatmaps are visual tools that allow for you to see where visitors go on a specific page of your website. Heatmaps allow for a visualization of what content is being viewed, or not viewed on the page. By being able to see where your visitors are going, and ultimately viewing, you can tailor your most important content to the heavily viewed areas. Highlights of varying intensities depict the density of user activity at each area on the page; typically annotated with data. For instance, number of clicks on elements and other useful ratios like clicks/hovers. Broadly, there are two kinds of heatmaps:
Eye-tracking: A variant of usability testing – this method asks you to engage in a sample size of your website's visitor population and tracks their eye-movements as they engage in designated webpages. The Eye-tracking method is a bit more expensive and only somewhat reliable as it is only tracking a sample of the website's population.
Mouse-tracking: The mouse movement heatmap tracks all mouse movement and activity of all users to the website over a period of time and are represented graphically. It is also a fairly good indicator of eye movement as studies found that eye-movement and mouse-movement have an average distance between curser and eye gaze of about 90 pixels. This method is the more preferred method as it is also the most affordable on top of being the most accurate.
What are the different kind of Mouse-Tracking Heatmaps?
There are three different kind of mouse-tracking heatmaps available. Each of these provides useful insight into how visitors are viewing your content- how they engage your website and how to increase your click-thru-rate.
Mouse-Movement Maps
Mouse-Movement maps are probably the closest way to getting an eye-tracking test without having to pay huge amounts of money for it. These maps do what they say in their name – track the mouse movements of users (hover and click-thru) and then converts that data onto the page. They provide insight into how users read and navigate a page on your website. Mouse-movement maps also show analytic data, such as how many visitors hover over a particular areas of the page – which can indicate how well content-areas are being received.
Scroll Maps
Scroll maps analyze how visitors use the scroll on the page and where they abandon the page altogether. You can utilize this data be seeing where those points are and adjusting the length of the page for optimal effectiveness. According to a Nielsen Norman Group study, 80% of visitor's attention is spent above the fold (or the space seen when loading a page before having to scroll).
Now, that does not mean that your conversion rate will suffer if your webpages are long. However, it is good to test out where people lose interest. These maps provide analytic data in terms of the percentage of people dropping off from the page at any given point. Data from Scroll Maps can tell you if people are missing important content tucked away below the fold – and if you should restructure your page.
Click Maps
Click maps analyze where users are clicking on your website. How can this help? It gives insight into where users flounder on the page, weeding out any unnecessary or unwanted distractions that could be blocking your conversion rate – or getting users to the contact or order pages and thus getting new business. You can see if links are working against each other on a given page as well as if any design elements are clogging up the works, so to speak. Having click maps gives that visual as to what is drawing the attention and where the user experience is going. With this information, you have the ability to clean things up and improve user experience.
In essence, heatmaps are a great tool to help you visually understand your visitor's experiences. They allow you to make sure the content you express to potential customers is getting viewed and processed, This allows you to focus on tactics that improve website conversion for your business. Just like any analytic tool set, having the data and numbers can help shape the ongoing user experience you have with your users. Still not sure about heatmaps or not sure how to set one up? Andromeda's team can help! Give us a call, or reach out and we can start getting your website into top shape!